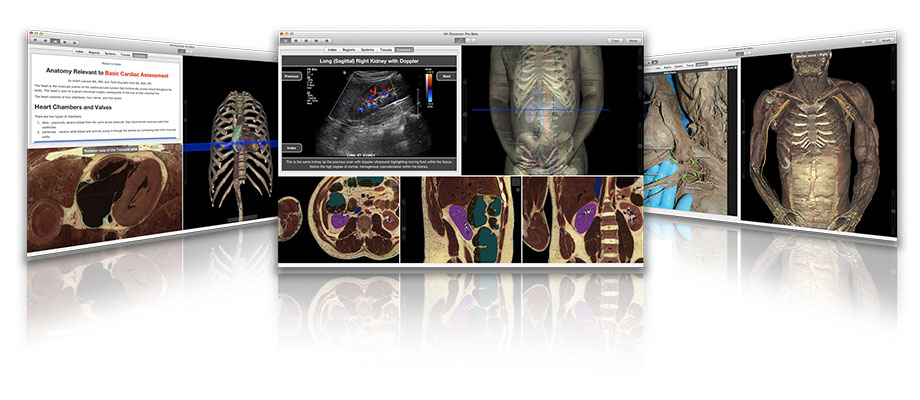 Built on real anatomy from the National Library of Medicine's Visible Human Project®, the Touch of Life Technologies VH Dissector platform for medical education provides students with an integrated environment for anatomical education and reference. With the ability to interact with correlated 3D and cross-sectional views of over 2,000 anatomical structures through identification, dissection, assembly and rotation the VH Dissector helps students understand the complex three-dimensional structure of the human body. Combining a complete electronic dissector with integrated 3D and cross-sectional atlases, the VH Dissector platform provides a comprehensive resource for gross anatomy education.
Please be sure to check that your system meets the minimum system requirements.
Then choose the appropriate download link below and thank you for using the VH Dissector!
If you have any trouble getting up and running or have questions, please contact us at support@toltech.net.
System Requirements
iPad models supported: iPad Pro 1 12.9", iPad Pro 2 or later, iPad Air 3 or later, iPad Mini 5 or later, iPad 7 or later.
Windows 7 is no longer supported by Microsoft or the VH Dissector Pro 6.2 or later.
If you have Windows 7 you may download the VH Dissector Pro 6.0.16.
Minimum
Recommended
Operating System
Microsoft Windows 8.1*
macOS 10.14
iPadOS 13**
Microsoft Windows 10
macOS 11.4
iPadOS 14**
Architecture
Windows: x86-64
macOS: x86-64, ARM64*****
Processor
Intel 4th Generation i5
Intel 6th Generation i7, Apple M1*****
Memory
8GB of RAM
16GB of RAM
Graphics
Intel HD Graphics 4600
2GB VRAM***
Intel Iris Graphics 540
2GB VRAM***
Graphics API
Windows: DirectX 11
macOS: Metal****
Storage
2.8GB of available hard-disk space
Network
Internet connection for installation, activation and lesson access
* Touchscreen features require Windows 10
** The following iPad models are supported: iPad Pro 1 12.9", iPad Pro 2 or later, iPad Air 3 or later, iPad Mini 5 or later, iPad 7 or later.
*** VRAM can be dedicated or shared system memory
**** List of macOS computers supporting Metal: https://support.apple.com/en-us/HT205073
***** The VH Dissector does not yet run natively on the ARM64 platform (Apple M1 processor), however testing has shown that it performs well.